Brunswick Zone Classic Bowling Balls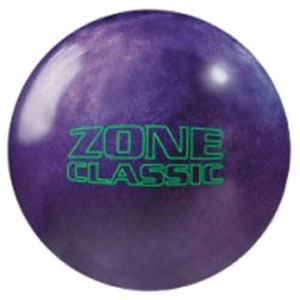 Currently Not Available
Zone Classic Specs
This product (#2012) is not available.
Similar Products
Storm
Super Natural
$104.99
Perfect Scale®: 145.9
Roto Grip
Scream Gold/Teal Pearl
$79.99
Perfect Scale®: 139.56
Roto Grip
Shout Light/Dark Green Solid
$79.99
Perfect Scale®: 139.56
Zone Classic features an inner core shape which is new, but familiar. Start with the classic Danger Zone shape, then stretch it laterally to create asymmetry. Keep stretching until you create a highly significant built in Preferential Spin Axis (PSA). Add the PSA locator pin and you have the new Zone Classic core, an Ultra Low RG design combining the proven image of Zone with Brunswick's patented PSA core technology.



Next add Activator Coverstock, the same coverstock used on the original Inferno, clean through the fronts, great mid-lane recovery, hard arcing backend, unprecedented durability. Factory finished with High Gloss Polish, the purple pearlized coverstock complements the Ultra Low RG Core to deliver an aggressive but forgiving ball reaction that matches up on medium-dry to medium-oily lane conditions.



Reaction Characteristics

Out of the Box:

With its high-gloss finish, the Zone Classic will match up well on medium-dry to medium-oily lane conditions.



When dulled:

The Zone Classic's hooking action will increase and its arc will become more even which creates a better match-up for oily lane conditions and helps to smooth over/under reactions seen on wet/dry lane conditions.

Please Note: All balls have a 1-2" pin.


The Perfect Scale®: Helping Bowlers Make Better Decisions. Because each manufacturer uses a different method for indicating a ball's hook potential, bowlingball.com developed a way for the consumer to compare bowling balls across all manufacturers.
See what other people are saying about the Zone Classic Bowling Balls by reading customer reviews