Track 920A Bowling Balls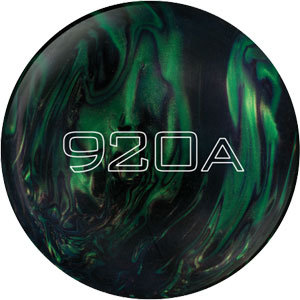 Currently Not Available
920A Specs
Breakpoint Shape:
Angular
Coverstock Name:
HP Gen 3 Pearl
Factory Finish:
4000 Sanded
Core Name:
Modified "Leggo"
Other Styles
This product (#7648) is not available.


The 920A was designed to be more Angular on medium/heavy oil patterns. Built on the LEGGO core platform, the designers modified it by raising the RG to 2.57 and tweaking the horsepower of the core (Intermediate Differential) to .020, thus gaining extra length while still having plenty of hitting power.


The coverstock chosen for this ball is the HP Gen 3 with Performance Pearl. The Pearl helps to make it more Angular on the backend. The surface is 4000 grit Abralon sanded. Each new ball from Track will include a microfiber cleaning pouch with instructions on its use.


The Perfect Scale®: Helping Bowlers Make Better Decisions. Because each manufacturer uses a different method for indicating a ball's hook potential, bowlingball.com developed a way for the consumer to compare bowling balls across all manufacturers.
See what other people are saying about the 920A Bowling Balls by reading customer reviews