Storm Reign of Fire Bowling Balls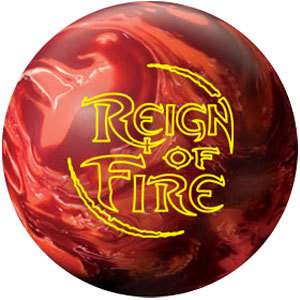 Currently Not Available
Reign of Fire Specs
Flare Potential:
4-5" (Medium-High)
Coverstock Name:
R2S Solid Reactive
Factory Finish:
1000-grit Abralon
Fragrance:
Guava Tangerine
Storm Product Line:
Thunder
This product (#7727) is not available.
Similar Products
Storm
Reign Of Power
$119.99
Perfect Scale®: 197.9
Ebonite
Energy Source
$129.95
Perfect Scale®: 197.80
DV8
Diva Pearl
$124.95
Perfect Scale®: 198.4
Storm Reign of Fire Articles
Developing a complete product line is always a top priority at Storm Products. From our Premier line down to the Ice line, we are constantly seeking feedback from the pro shops and bowlers.

The consensus was that we needed a strong solid reactive in the Thunder line. The long standing history of this line has always been performance and price, so our goal was to give you the best bang for the buck.

The key to the Reign of Fire is the utilization of the R2S solid reactive coverstock. From its inception, it has proven to be one of the most versatile coverstocks ever manufactured. With its strong surface profile and excellent friction characteristics it was the obvious choice for this latest release.

The fuel for the Fire so to speak is the C.A.M. (Continuous Axis Migration) weight block. The combination of the unique contours along the weight block with the strategically placed weighted mass blocks deliver optimum mid-lane roll with volatile backend reaction.

The Perfect Scale®: Helping Bowlers Make Better Decisions. Because each manufacturer uses a different method for indicating a ball's hook potential, bowlingball.com developed a way for the consumer to compare bowling balls across all manufacturers.
See what other people are saying about the Reign of Fire Bowling Balls by reading customer reviews