Roto Grip Infinite Theory Bowling Balls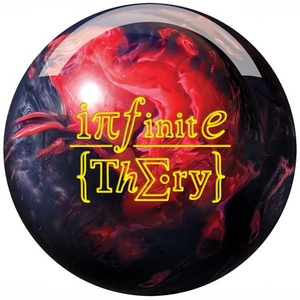 Click Below
To View



Core Image


Product Image
Currently Not Available
Infinite Theory Specs
Flare Potential:
7+ inches
Coverstock Name:
Insight Hybrid Reactive
Factory Finish:
1500 Polish
Core Name:
Triliptic Core (14-16 lbs), Modified Triliptic Cor
Roto Grip Product Line:
Crown
Color(s):
Red,Yellow,Silver,Black
This product (#9215) is not available.
Similar Products
Lane #1
Stealth Bomber 12 Only
$139.95
Perfect Scale®: 218.5
Roto Grip
Totally Defiant
$154.95
Perfect Scale®: 218.8
Storm
Marvel-S
$142.99
Perfect Scale®: 219.9
Infinite. Forever. Never-ending. Watch the newest Theory roll down the lane and you'll believe it will never quit on the backend. It's the Roto Grip Infinite Theory!

Following the huge impact on the market made by the original Roto Grip Theory, Roto Grip has created the Infinite Theory. This ball is for bowlers looking for a smoother glide through the heads with strong motion through the pocket. The Triliptic core helps the ball get into a roll easier while the Infinite theory's triple elliptical shape creates consistent axis migration and predictable ball motion giving the consistency needed. This ball also provides more energy transfer from the ball to the pins, increasing pin movement and therefore increasing strikes. The hybrid coverstock gives added versatility while the polished surface will float the ball effortlessly through the heads with a hint of Abralon for the benefits of a solid.

The Perfect Scale®: Helping Bowlers Make Better Decisions. Because each manufacturer uses a different method for indicating a ball's hook potential, bowlingball.com developed a way for the consumer to compare bowling balls across all manufacturers.
See what other people are saying about the Infinite Theory Bowling Balls by reading customer reviews