Lane #1 Pink Panther Bowling Balls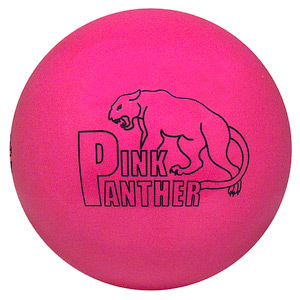 Currently Not Available
Pink Panther Specs
Coverstock Name:
Bleeder 9.7
Factory Finish:
6421 Compound 2x Polished
Core Name:
Oversized Patented Diamond
This product (#8835) is not available.
Similar Products
Storm
Optimus
$149.95
Perfect Scale®: 212.7
Motiv
Octane
$146.99
Perfect Scale®: 213.5
Ebonite
Champion MEGA DEAL
$99.99
Perfect Scale®: 211.9
Lane #1 Pink Panther Articles
The Pink Panther is being released from captivity into the wild! With the largest diamond core yet, this beast of a ball is ready to pounce and tear to shreds ANYTHING in its path! One throw and you'll see how quickly the PINK PANTHER sinks it's fangs and claws into the pins! No herd of pins are safe!

Throw in the Bleeder 9.7 Coverstock with it's 6421 Compound finish with 2x polish and you've got a true predator on the lanes!

The Perfect Scale®: Helping Bowlers Make Better Decisions. Because each manufacturer uses a different method for indicating a ball's hook potential, bowlingball.com developed a way for the consumer to compare bowling balls across all manufacturers.
See what other people are saying about the Pink Panther Bowling Balls by reading customer reviews