Lane #1 Enriched Uranium Bowling Balls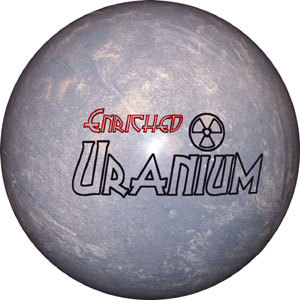 Currently Not Available
Enriched Uranium Specs
This product (#4089) is not available.
Similar Products
Track
300A
$92.99
Perfect Scale®: 157.5
Track
300C Solid
$93.99
Perfect Scale®: 155.44
Hammer
Spike Orange/Blue
$104.99
Perfect Scale®: 151.9
Lane #1 builds it's first power plant. The fuel for this nuclear reactor is our U235 super dense Uranium core. this higher concentration of dense materials is the key ingredient that starts a nuclear reaction at the pins. We've also Enriched our pearl Radioactive+ cover stock with 3% molecules of particles, diffusing lane oil for more traction. With up to 16 lbs. of nuclear power at your fingertips. The Enriched Uranium is an explosion waiting to happen.



The Perfect Scale®: Helping Bowlers Make Better Decisions. Because each manufacturer uses a different method for indicating a ball's hook potential, bowlingball.com developed a way for the consumer to compare bowling balls across all manufacturers.
See what other people are saying about the Enriched Uranium Bowling Balls by reading customer reviews