Hammer Black Widow Nasty Bowling Balls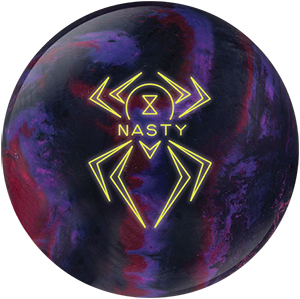 Currently Not Available
Black Widow Nasty Specs
Breakpoint Shape:
Long with Aggressive Backend
Coverstock Name:
Violent Wheel Reactive
Factory Finish:
4000-grit Abralon
Core Name:
High RG Widow Core
Color(s):
Red,Purple,Black
This product (#7659) is not available.


Hammer's Black Widow Nasty starts off with a High RG Widow Core shape designed to give the bowler more length with a violent response down lane. By combining a higher RG with a high differential, Hammer is creating a long and continuous ball motion in the product line.

Hammer is also introducing its first ball with the new Cover-Puck technology core system. Cover-Puck cores use an offset coverstock puck to increase differential and create more angular ball motion down-lane. "The Cover-Puck system really gets this Widow moving in the backend, and this ball continues through the deck unlike any of our other Widows, said Bill O'Neill, Hammer PBA Champion and Pro Staffer.

Hammer's new High RG Widow Core has also created a lower mass bias rating in this Widow, letting Hammer use the LMB stamp to indicate the position of the Low Mass Bias in this new Widow. Hammer's also cooked up a new coverstock called Violent Wheel Reactive, which utilizes that new core shape and creates a strong down-lane response. Just when you think she's given up, this Widow will keep wheeling back to the pocket.

The Black Widow line was first released via the Internet in 2006 and was a huge hit with its lethal ability to perform like a high performance ball with the upper-mid price tag. This was the first ball that utilized Internet marketing to bring a ball to the bowler. Ebointe used the Internet to bring its hard hitting Hammer line to the world.

The Perfect Scale®: Helping Bowlers Make Better Decisions. Because each manufacturer uses a different method for indicating a ball's hook potential, bowlingball.com developed a way for the consumer to compare bowling balls across all manufacturers.
See what other people are saying about the Black Widow Nasty Bowling Balls by reading customer reviews