Hammer No Mercy Whup 'N Bowling Balls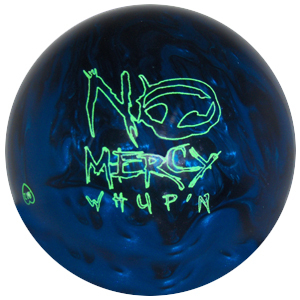 Currently Not Available
No Mercy Whup 'N Specs
This product (#6809) is not available.


HART Offset Core - Right-Handers Only!!

With the introduction of the Hammer No Mercy Whup 'N, Hammer is Proud to offer a unique twist to the HART core concept that provides more aggressive backend attack for right-handed bowlers. Developed by our team of design engineers, the HART Offset core changes the orientation of the pin, HART, and center of gravity locations on the ball in order to produce length and aggressive backend reaction for right-handed bowlers without the need for exotic layouts and weight holes. Unfortunately, the No Mercy Whup 'N will not provide the same length with aggressive backend reaction for left-handed bowlers or bowlers with full-roller ball tracks.

The HART Offset core concept allows for more length and more aggressive backend reaction by placing the pin at 4 1/2 - 5 1/2" from the PAP (Positive Axis Point) and the HART well into the ball track.





The Perfect Scale®: Helping Bowlers Make Better Decisions. Because each manufacturer uses a different method for indicating a ball's hook potential, bowlingball.com developed a way for the consumer to compare bowling balls across all manufacturers.
See what other people are saying about the No Mercy Whup 'N Bowling Balls by reading customer reviews