Columbia 300 Action Max Bowling Balls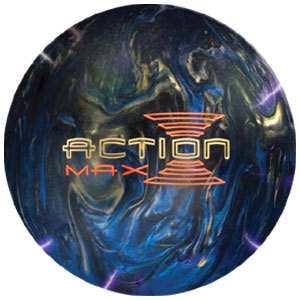 Currently Not Available
Action Max Specs
Color(s):
Blue,Gold,Black
This product (#4533) is not available.
Similar Products
Ebonite
Challenge 15 Only
$159.99
Perfect Scale®: 206.5
Pyramid
Dark Path Hybrid NEW ITEM
$109.99
Perfect Scale®: 204.7
Hammer
Black Widow Assassin
$134.95
Perfect Scale®: 208.9
We have just a few in left in stock. Then this Columbia technology is gone forever. Columbia balls will not longer be made by Columbia in San Antonio.

MAXIMIZE YOUR PERFORMANCE with the stunning hook and power of the new Columbia 300 Action Max. A redesigned higher RG Action core provides increased length for maximum power, while the new breakthrough M80 Friction Plus shell delivers maximum friction and hook to the pocket. And it only gets better. Combine Action Max with the length and back-end of the aggressive Action Packed, and the smooth, powerful mid-lane transition of the blockbusting Action for the maximum arsenal to power up your average. You're out to maximize your game. You're out to maximize performance. Don't settle for less than the Columbia 300 Action max.

The Perfect Scale®: Helping Bowlers Make Better Decisions. Because each manufacturer uses a different method for indicating a ball's hook potential, bowlingball.com developed a way for the consumer to compare bowling balls across all manufacturers.
See what other people are saying about the Action Max Bowling Balls by reading customer reviews