Columbia 300 Action Packed Bowling Balls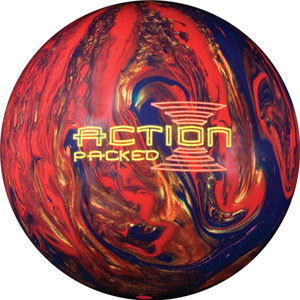 Currently Not Available
Action Packed Specs
This product (#4133) is not available.
Similar Products
Ebonite
Challenge 15 Only
$159.99
Perfect Scale®: 206.5
Pyramid
Dark Path Hybrid NEW ITEM
$109.99
Perfect Scale®: 204.7
900 Global
Dirty Look 12 16 ONLY
$99.99
Perfect Scale®: 203.5
Action Packed combines a very low Rg, high-flaring core with our proven M802 coverstock. This reactive formula will provide the friction of a particle ball while maintaining one of the strongest backend reactions on the market today. Building on the success of the Action, this core and coverstock match will go longer and be stronger down the lane than the original. The perfect pair for high-scoring action.

The Perfect Scale®: Helping Bowlers Make Better Decisions. Because each manufacturer uses a different method for indicating a ball's hook potential, bowlingball.com developed a way for the consumer to compare bowling balls across all manufacturers.
See what other people are saying about the Action Packed Bowling Balls by reading customer reviews