Brunswick Anaconda Bowling Balls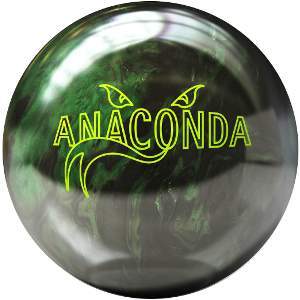 Click Below
To View



Core Image
Currently Not Available
Anaconda Specs
Coverstock Name:
Activator Plus
Factory Finish:
500 Siaair Micro-Pad; Rough Buff Finish
Core Name:
Ultra Low RG Inferno
Brunswick Product Line:
Advanced Performance
This product (#8535) is not available.
Similar Products
Radical
Torrid Elite MEGA DEAL
$89.99
Perfect Scale®: 181.9
Roto Grip
Wrecker
$99.99
Perfect Scale®: 182.8
DV8
Misfit Green/White MEGA DEAL

$73
Perfect Scale®: 182.2
The biggest snake brings the BIGGEST hook yet! Take the lanes and your opponents and squeeze the life out of them!



Activator Plus Coverstock
The Anaconda is the first ball with Activator Plus coverstock available at the Advanced Performance price point. Activator Plus is a more aggressive version of the original Activator coverstock formulation that maintains the durability and longevity of ball reaction that are characteristic of the Activator coverstock family. The rough-buff, pearlized version of Activator Plus coverstock used on the Anaconda creates more traction in the oil, increasing the ball's mid-lane and back-end hooking action, while still being clean through the front-end.

Ultra Low RG Inferno Core
The Anaconda uses an updated version of the Original Inferno core. The Ultra Low RG Inferno core revs quickly providing mid-lane traction control with a strong predictable back-end motion.

Ball Motion
With its Rough Buff finish, the Anaconda will rev quickly in the mid-lane with a strong continuous back-end reaction that matches up on medium to medium-oily lane conditions for a wide range of bowling styles.

Reaction Setup
The Anaconda can be drilled using the standard drilling techniques developed for symmetric bowling balls.

Lightweight Engineering
The unique core shape of each Brunswick ball is used for weights from 14 to 16 pounds. This approach to lightweight ball engineering provides bowlers with consistent ball reaction characteristics across this weight range. The same drilling instructions can be used for 12- and 13-pound balls. This is because Brunswick uses a generic core shape with an RG differential that is close enough to the 14-16 pound shape.

The Perfect Scale®: Helping Bowlers Make Better Decisions. Because each manufacturer uses a different method for indicating a ball's hook potential, bowlingball.com developed a way for the consumer to compare bowling balls across all manufacturers.
See what other people are saying about the Anaconda Bowling Balls by reading customer reviews