Brunswick Vapor Zone Bowling Balls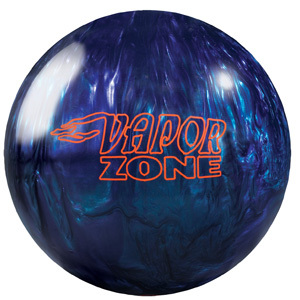 Currently Not Available
Vapor Zone Specs
This product (#3993) is not available.
Similar Products
Roto Grip
Shout Light/Dark Green Solid
$79.99
Perfect Scale®: 139.56
Roto Grip
Scream Gold/Teal Pearl
$79.99
Perfect Scale®: 139.56
Storm
Pitch Black
$119.95
Perfect Scale®: 138.8
The Vapor Zone brings the popular reaction of the Absolute Inferno to the Zone Asymmetric line. The Vapor Zone combines the same rough buff Activator Plus coverstock used on the Absolute Inferno with the Ultra-Low-RG Asymmetrical core system from the Zone Classic. The core/coverstock combination produces an Absolute Inferno like ball reaction with the drilling options of an asymmetrical core.

IN THE FRONT ENDS: The Activator Plus coverstock is clean through the fronts, saving more reaction for the back-ends. This provides improved hitting power and back-end recovery while reducing sensitivity to breakdown in front-end lane conditions and lane surfaces that are less than ideal.

IN THE MID-LANE: The Ultra-Low RG core provides strong mid-lane recovery while Activator Plus provides improved traction in the oil with a smoother, more effective reaction off the dry. This combination reduces over/under reaction by making the wet play less wet and the dry less dry, effectively allowing the bowler to create more area.

ON THE BACK-ENDS: The Activator Plus coverstock is powerful and continuous from the breakpoint through the pins. Improved traction in the oil allows the Vapor Zone to bite through the carry down and aggressively change direction without breaking loose from the lane. The strong rolling characteristics of the Ultr-Low RG core make this move more readable allowing the bowler to open up the lane.


The Perfect Scale®: Helping Bowlers Make Better Decisions. Because each manufacturer uses a different method for indicating a ball's hook potential, bowlingball.com developed a way for the consumer to compare bowling balls across all manufacturers.
See what other people are saying about the Vapor Zone Bowling Balls by reading customer reviews