Brunswick Smokin' Inferno Bowling Balls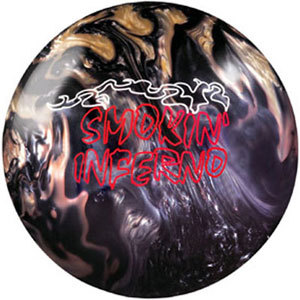 Currently Not Available
Smokin' Inferno Specs
This product (#3218) is not available.
Similar Products
Radical
Yeti MEGA DEAL
$84.99
Perfect Scale®: 174.8
Brunswick
Ringer Royal Blue Solid
$94.99
Perfect Scale®: 175.8
DV8
Misfit Solid Red/Orange
$89.99
Perfect Scale®: 175.7
Reaction Characteristics - Smokin' Hot


The Inferno line has been a tremendous success for Brunswick. Defined by Ultra-Low RG Core Systems and Activator coverstock technology, the Inferno line is known for its clean front-ends and a quick revving core that helps create mid-lane recovery and a hard arcing back-end reaction. The Smokin' Inferno debuts the latest addition to the Activator Coverstock family. Activator Advance is a new version of Activator coverstock technology that matches up best to a higher RG core system, compared to other Inferno's, delivering more back-end hooking action and the most angular Inferno to date.

The Activator Advance coverstock has been RG matched to produce maximum forgiveness and versatility. The RG chosen for the Smokin' Inferno produces a ball that is less sensitive to backend and ball track transitions than higher or lower RG options that were tested.

The Smokin' Inferno combines design elements in a unique way that produces spectacular results.
Low-RG but very angular. A High Gloss Polish surface with a high hook potential. The Smoking Inferno is an excellent match-up on all but the oiliest and driest lane conditions. Smoke your competition with the Smokin'Inferno.
Utility



Out of the Box: With its High Gloss Polish finish the Smokin' Inferno will match up well on medium-dry to medium-oily conditions.


When dulled: The Smokin' Inferno hooking action will increase and its arc will become more even, creating a better match-up for oily lane conditions and help blend the over/under reactions seen on wet/dry lane conditions..


Reaction Setup
The Smokin' Inferno can be drilled using the standard drilling techniques developed for two-piece balls, see the
included drilling instructions for reaction characteristics and layout details.
The Smokin' Inferno is finished with Brunswick's Factory Finish High Gloss Polish. To bring your Smokin'
Inferno back to its original factory finish sand the surface to 400-grit then use Brunswick's Factory Finish High
Gloss Polish.
You'll be smoking the competition with the new Smokin' Inferno.

The Perfect Scale®: Helping Bowlers Make Better Decisions. Because each manufacturer uses a different method for indicating a ball's hook potential, bowlingball.com developed a way for the consumer to compare bowling balls across all manufacturers.
See what other people are saying about the Smokin' Inferno Bowling Balls by reading customer reviews