Brunswick Inferno Bowling Balls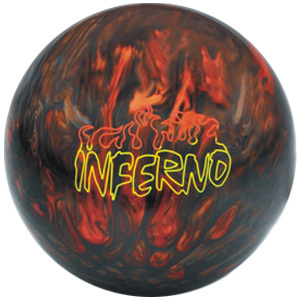 Currently Not Available
Inferno Specs
This product (#1664) is not available.


bowlingball.com has the Inferno that started it all for a limited time only.

Brunswick bowling ball popular with Touring bowling professionals.

Play with Fire without getting Burned


Brunswick proudly introduces the Inferno with Activator Aggressive Reactive coverstock.


Activator coverstock technology:
Every Urethane (Conventional and Reactive) is made by combining a liquid polyol and a liquid isocyanate to make a solid urethane polymer. Brunswick has gone back to these foundations and developed a totally new polyol, combined with a radically new Liquid Crystal Isocyanate and Additive system in order to create Activator, a new Advanced Reactive material.
Activator coverstocks feature a layered molecular structure that improves both coverstock durability and overall ball reaction. By design, the Activator material can be formulated to independently control the ball's traction in the oil and reaction to the dry. This ability to control the Traction/Friction Response has been used to fine tune the Activator coverstock to match up with a new Ultra-Low Rg core creating the Inferno, a ball with unparalleled characteristics from the foul line to the pit.
Inferno Advantages
In the front-ends:
The Inferno's Activator coverstock is cleaner through the fronts, saving more reaction for the back-ends. This provides improved hitting power and back-end recovery while reducing sensitivity to breakdown in front-end lane conditions and lane surfaces that are less than ideal.
In the mid-lane:
The Ultra-Low RG core used in the Inferno provides strong mid-lane recovery while its Activator coverstock provides improved traction in the oil with a smoother, more effective reaction off the dry. This combination reduces over/under reaction by making the wet play less wet and the dry, less dry, effectively allowing the bowler to create more area.
On the back-ends:
The Inferno's Activator coverstock is powerful and continuous from the breakpoint through the pins. Improved traction in the oil allows the Inferno to bite through the carry down and aggressively change direction without breaking loose from the lane. The strong rolling characteristics of the Ultra-Low RG core make this move more readable allowing you to open up the lane.
At the pins:
The Activator coverstock used on the Inferno creates lower, more active pin action for improved carry.
All of these characteristics become more apparent on less than ideal lane surfaces or as the lane condition breaks down. Forgiveness, recovery and hit are preserved as the lane condition changes allowing you to keep striking longer with your Inferno before needing to change balls.
Utility
Out of the Box:
With its high-gloss finish the Inferno will match up well on medium to oily lane conditions. When dulled: The Inferno's hooking action will increase and its arc will become more even, creating a better match-up for oily lane conditions and further smoothing over/under reactions seen on wet/dry lane conditions.
Inferno The Power the eclipse everything under the Sun!

The Perfect Scale®: Helping Bowlers Make Better Decisions. Because each manufacturer uses a different method for indicating a ball's hook potential, bowlingball.com developed a way for the consumer to compare bowling balls across all manufacturers.
See what other people are saying about the Inferno Bowling Balls by reading customer reviews