Go to Storm Fire Road »
Only show reviews for Storm Fire Road
| | | |
| --- | --- | --- |
| I Love It | | 100% (16 of 16) |
| I Like It | | 0% ( of 16) |
| It's Ok | | 0% ( of 16) |
| I Don't Like It | | 0% ( of 16) |
| I Hate It | | 0% ( of 16) |
Storm Fire Road

Reviewed By: bowlingball.com reviews by

Dustin S

06/18/2012 15:12 ( stars)

1 of 2 people found this review helpful.



About the Bowler
Bowling Hand
Right Handed
League Average
215
Style
Cranker
PAP
6 3/16 x 1/2 down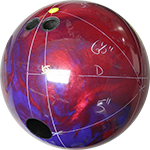 Click to Enlarge


Pin to PAP(6 3/16" over 1/2" down) - 6 1/2"
PSA Layout - 6 1/2 x 5 x 3"
Balance Hole - n/a

Surface Preparation - Out of Box (1500 Grit Polished)

What I Was Looking For In This Ball Layout:

The Thunder line is my favorite line in all of bowling and has been for many years. All reincarnations of the Fe core have been great matches for my game. The releases in this line are as good as anything in bowling, in my opinion. With the Fire Road I was expecting to see a reaction similar to the Fired Up which was one of my favorite balls ever. The stronger R2X coverstock was sure to add hook potential to the formula. Needless to say, I was excited!

What I Ended Up With in the Ball and Layout:

With my expectations being through the roof, I wasn't expecting to be blown away because I was pretty sure what I would see. Boy was I wrong. The combo of the Inverted Fe3 core with the R2X pearl coverstock is a match made in heaven! This ball read our testing condition perfectly. I couldn't throw the ball too far out for this thing to come back from. The carry was amazing like every ball in this line and it looks great going down the lane.

Sometimes with a pearl coverstock you have the tendency for it to squirt or skid past the breakpoint. Well let me tell you, I never saw the slightest hint of this ball ever having that problem. It great length but you could see it preparing to make the move in the midlane as the core took hold. Like a prize fighter winding up to land a knockout punch you could see the ball ready to explode. That's exactly what it did. This ball has the potential to be one of my favorites ever and I promise you will see lots of this ball in the hands of Belmo, PDW and Norm on TV next year!