Go to Storm Crossroad »
Only show reviews for Storm Crossroad
| | | |
| --- | --- | --- |
| I Love It | | 86% (24 of 28) |
| I Like It | | 11% (3 of 28) |
| It's Ok | | 0% ( of 28) |
| I Don't Like It | | 0% ( of 28) |
| I Hate It | | 4% (1 of 28) |
Storm Crossroad

Reviewed By: bowlingball.com reviews by

Tony Ruocco

03/05/2012 09:25 ( stars)

2 of 2 people found this review helpful.



About the Bowler
Bowling Hand
Right Handed
Experience
Advanced (I have bowled in a league)
League Average
225
Ball Speed
Medium
Style
Cranker
PAP
5 1/8" over 1/8" up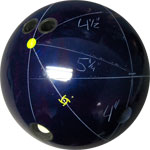 Click to Enlarge


Put your favorite layout on the new Crossroad and in your next tournament you'll be the first to cross the finish line!

Pin to PAP(5 1/8" over 1/8" up) - 5 1/4"
PSA Layout - 5 1/4" x 4" x 4 1/2"
Balance Hole - On VAL from center of grip through cg

Surface Preparation - Out of Box (1500 Grit Polished)

What I Was Looking For In This Ball Layout:
With the new Crossroad being a combination of the Hy-Road and Victory Road we were super excited to throw this ball.

I used a simple layout that I use on most of my test balls. This layout allows me to get max length from the ball with a strong angular motion off the break point. It really allows me to open up the right side and see what a ball can really do on a typical house shot.

I expected to see just that from the Crossroad, plenty of skid with a really angular move down lane.

What I Ended Up With in the Ball and Layout:
This performance level is possibly the best that Storm has. These balls are super consistent and react awesome. The Crossroad was no exception to this for me.

Off my hand the polished R2S Hybrid cover cleared the heads with ease storing up a ton of energy to use down lane. I never saw this ball read the lane early throughout our testing. As the ball cleared the fronts and started to set up for the back end it just over powered any oil it came across and motored towards the pocket.

As you can see in the video I had the entire right side of the lane with this ball. Even when I got the ball a little too deep downlane, it recovered
and carried everything. The backend motion was truly awesome and I guess if I had to sum it up I would agree with Storm and say it was all the best
characteristics of the Victory Road and Hy-Road rolled into one.