Go to Brunswick Nexxus f(P+R) »
Only show reviews for Brunswick Nexxus f(P+R)
| | | |
| --- | --- | --- |
| I Love It | | 96% (24 of 25) |
| I Like It | | 0% ( of 25) |
| It's Ok | | 4% (1 of 25) |
| I Don't Like It | | 0% ( of 25) |
| I Hate It | | 0% ( of 25) |
Brunswick Nexxus f(P+R)

Reviewed By: bowlingball.com reviews by

Tony Ruocco

02/10/2012 10:49 ( stars)

4 of 4 people found this review helpful.



About the Bowler
Bowling Hand
Right Handed
Experience
Advanced (I have bowled in a league)
League Average
225
Ball Speed
Medium
Style
Cranker
PAP
5 1/8" over 1/8" up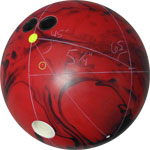 Click to Enlarge


We've added an X to the name and you'll add X's to your score.

Pin to PAP(5 1/8" over 1/8" up) - 5 1/4"
Dual Angle Layout - 45* x 5 1/4" x 65*
Balance Hole - n/a

Surface Preparation - Out of Box (500 and 1500 Grit Siaair)

What I Was Looking For In This Ball Layout:
After raving reviews on the Nexus Solid and Nexus Pearl we were very excited to try out the new Nexxus f(P+R). With a projection and recovery additive
this ball should offer another strong look similar to the Nexus Solid but with a cleaner look through the heads and more recovery.

The layout we used should provide me with a really good look on a fresh shot of what this ball can do.

What I Ended Up With in the Ball and Layout:
Brunswick has done a spectacular job of bringing out 3 balls in a series that give you completely different looks. Sometimes when introductions in a new line come this quickly there are overlapping ball motions and usually one of the releases rises to the top. They have done a great job to make sure that each ball in the Nexus series offers something for everyone and a little something that all bowlers can use on a variety of conditions.

For me the new Nexxus was not stronger then my Nexus Solid in over all hook. The Nexus Solid covered more boards but was a smoother, more continuous ball motion then new Nexxus. This release offered a stronger skid/snap motion then the original Solid and definitely still more hook on medium to oily conditions then the Pearl Nexus.

The Nexxus P+R cleared the heads great, for a stronger ball I saw little to no issues getting this ball down the lane very easily with a super strong
transition from the middle part of the lane into the back end. In this test you can see I used a white thumb slug and that really allows you to see how hard this ball was revving up as it got down lane and transitioned off the break point.

Overall this was an awesome ball test and I think the new Nexxus f(P+R) has a place in the bag this season.