Go to Hammer Taboo Jet Black »
Only show reviews for Hammer Taboo Jet Black
| | | |
| --- | --- | --- |
| I Love It | | 93% (14 of 15) |
| I Like It | | 7% (1 of 15) |
| It's Ok | | 0% ( of 15) |
| I Don't Like It | | 0% ( of 15) |
| I Hate It | | 0% ( of 15) |
Hammer Taboo Jet Black

Reviewed By: bowlingball.com reviews by

Tony Ruocco

01/24/2012 13:43 ( stars)

10 of 10 people found this review helpful.



About the Bowler
Bowling Hand
Right Handed
Experience
Advanced (I have bowled in a league)
League Average
225
Ball Speed
Medium
Style
Cranker
PAP
5 1/8" over 1/8" up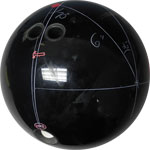 Click to Enlarge


You asked for us to get Hammer videos back and the Taboo Jet Black was a great way to get back on board.


Pin to PAP(5 1/8" over 1/8" up) - 6"
Dual Angle Layout - 70* x 6" x 25*
Balance Hole - n/a

Surface Preparation - Out of Box (500/1000/2000 Grit Abralon, Powerhouse Factory Finish Polish)

What I Was Looking For In This Ball Layout:
The Taboo Jet Black uses a core from the Widow series with a polished GTR III Solid coverstock.

I decided to use the layout from my original Black Widow that I still use today and see what this ball could do. This layout for me allows the ball to get down lane with ease and make a left on the backends. In my original
Black Widow I used the ball at 4000 grit Abralon so I am expecting the polished coverstock to create more direction change downlane then that ball with a stronger overall ball motion.

What I Ended Up With in the Ball and Layout:
I am very glad that we were able to test this ball. I really missed the ball motion signature that Hammer creates on their high performance balls. The Taboo Jet Black was no exception and rolled just as I predicted.

The Taboo Jet Black cleared the heads smoother then any other ball we tested that night. The way the ball set up in the middle part of the lane reminded me of Hammer products that we have tested in the past. It was a smooth easy transition through the mid lane and man did have plenty left for the backend.

Off the break point the Taboo Jet Black put on a turn signal and went left. It was by far one of the more angular motions I ahve seen from Hammer in quite a while. The angle I was able to create down lane was sick. The ball came off the break point so hard I felt like I could just keep throwing it further and further right and it would recover.

All in all a very good "welcome back" ball test from Hammer and we are excited to see whats to come.