Go to Storm Modern Marvel »
Only show reviews for Storm Modern Marvel
| | | |
| --- | --- | --- |
| I Love It | | 86% (12 of 14) |
| I Like It | | 7% (1 of 14) |
| It's Ok | | 7% (1 of 14) |
| I Don't Like It | | 0% ( of 14) |
| I Hate It | | 0% ( of 14) |
Storm Modern Marvel

Reviewed By: bowlingball.com reviews by

Tony Ruocco

01/23/2012 12:38 ( stars)

1 of 1 people found this review helpful.



About the Bowler
Bowling Hand
Right Handed
Experience
Advanced (I have bowled in a league)
League Average
225
Ball Speed
Medium
Style
Cranker
PAP
5 1/8" over 1/8" up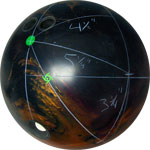 Click to Enlarge


The Master line features new technology with strong, dynamic core shapes that are sure to help all bowlers looking to 'master' the sport of bowling.



Pin to PAP(5 1/8" over 1/8" up) - 5"
PSA Layout - 5 1/4" x 3 3/4" x 4 1/2"
Balance Hole - n/a

Surface Preparation - Out of Box (4000 Grit Abralon)

What I Was Looking For In This Ball Layout:
I used the same layout I have used on most of my Storm tests lately.
This pin down layout allows me to get inside the track area and open up a little room for myself to the right. It tends to keep the ball pretty smooth in the heads with a strong transition at the break point.

The Modern Marvel offers a dull Hybrid coverstock that allows a stronger overall ball motion without the ball changing directions too early.

What I Ended Up With in the Ball and Layout:
This is my favorite ball in this series so far. I felt that Storm finally found a combination the worked well for me in this performance category as well as price point.

The Modern Marvel gave me everything I would want out of a ball that fits in its performance group. Off my hand it rolled really strong but never reacted too early. The Modern Marvel got into a much stronger roll in the middle part of the lane then any other ball we tested that night but it still had plenty of energy for the backends.

I was able to miss in by a 3-4 boards at times and the ball held wonderfully and still hit the pins with authority. As I broke the pattern down just a bit I was able to send this ball right as far as I wanted and it would come off the break point strong. As I said earlier I think this is a perfect ball motion to fit in under the Nano series and any other Premier line balls coming in the future. The Modern Marvel offers a really strong roll without something the hooks too much for slower ball speeds.