Go to DV8 Hell Raiser »
Only show reviews for DV8 Hell Raiser
| | | |
| --- | --- | --- |
| I Love It | | 91% (30 of 33) |
| I Like It | | 6% (2 of 33) |
| It's Ok | | 0% ( of 33) |
| I Don't Like It | | 3% (1 of 33) |
| I Hate It | | 0% ( of 33) |
DV8 Hell Raiser

Reviewed By: bowlingball.com reviews by

Tony Ruocco

09/05/2011 09:03 ( stars)

479 of 482 people found this review helpful.



About the Bowler
Bowling Hand
Right Handed
League Average
215
Ball Speed
Medium
Style
Tweener
PAP
5 1/8 right 1/8 up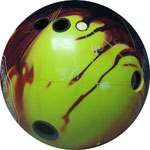 Click to Enlarge


Raise some hell with DV8's Hell Raiser!

Pin to PAP(5 1/8" over 1/8" up) - 4"
Dual Angle Layout - 40* x 4" x 45*
Balance Hole - 1" x 3" on PAP

Surface Preparation - Out of Box (500, 1500 Grit Siaair; Rough Buff Finish)

What I Was Looking For In This Ball Layout:
DV8 is an edgy new brand that does not hide the fact that they are here to impress bowlers with how their products perform. The Hell Raiser is their first high performance release and it is supposed to hook. We know that everyone says their new balls hook a lot but we had seen this ball already and knew that they were not lying.

We figured we would go ahead and stay pretty aggressive with all the releases from DV8 to show you what they can really do. In this case we used one of the more stronger layouts that I throw and figured we would watch it hook.

What I Ended Up With in the Ball and Layout:
We had seen the Hell Raiser go down the lane already from DV8 but even that could not prepare us for how much movement we saw with this ball.

Right out of the gate on the fresh oil we were getting more movement then we have seen in a while. Pair that with the sick looks of this ball and you
have yourself an instant favorite in the bowling center. This ball not only rolls great but looks awesome doing it. I am sure this ball will turn
some heads as it goes down lane during league.

The coverstock prep was perfect in my opinion, it gave the ball just enough pick up in the middle to allow a bowler like me to get in and not have to worry about the ball not getting back. I was getting recovery from all over the lanes. This was possibly the quickest video I ever shot since I really threw nothing but strikes with this ball.

I could see some potential carry issues as the night progresses and I would have to move farther and farther left but a simpler, more tame drilling layout may take care of that for most bowlers. I am very glad to see a new player on the performance ball market. I think the attitude and looks of this brand will be a great addition to this season.