Go to Storm Anarchy »
Only show reviews for Storm Anarchy
| | | |
| --- | --- | --- |
| I Love It | | 90% (47 of 52) |
| I Like It | | 6% (3 of 52) |
| It's Ok | | 2% (1 of 52) |
| I Don't Like It | | 2% (1 of 52) |
| I Hate It | | 0% ( of 52) |
Storm Anarchy

Reviewed By:

Mike@Bowlingball.com

10/07/2010 15:41 ( stars)

1 of 1 people found this review helpful.



About the Bowler
Bowling Hand
Right Handed
Experience
Advanced (I have bowled in a league)
League Average
225
Sport Shot Average
215
Ball Speed
Fast
Style
Cranker
PAP
5 1/8" Right -1/8" Up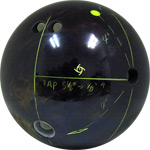 Click to Enlarge


Ball Tested - Tony Ruocco's Storm Anarchy(4x4x1 Layout)

What I expected:
From watching Tony throw the ball I pretty much knew what this was going to do for me out of the box. I have more forward roll than Tony so most bowling balls are going to read earlier for me. We expected that for me this ball would have a much more even reaction without losing too much energy too early. More even reaction will typically mean a more consistent read on the lanes and make it a little easier to make small adjustments to stay in the pocket as the lanes break down.

What we saw:
I was not expecting to throw the ball very well as I have not picked up a ball in about 4 months. I was going back and forth between this ball and the Virtual Energy drilled 55x5.25x35(dual angle). This ball was my benchmark ball last season while bowling leagues. I was beginning to notice that the Virtual was a little too flippy off the break point. Not bowling for a while it began to be too difficult to control. I noticed a much more consistent read with the Anarchy having the 4x4x1 layout. This ball was very clean through the heads and the transition was very easy to read. It really handles friction very well and does not stop on the backend. The ball drives through the pins extremely well and I really didn't notice any deflection.

Being in the Customer Service department here we get all the comments of "why do all of our reviews of Storm balls say the same thing? It is clean through the heads and great backend reaction." To answer this we simply have to state, this is the benchmark of Storm as a brand. They make bowling balls that are made to get down lane before the react. This ball is just another great addition to the current Storm lineup.

The Storm Anarchy would make a great compliment to anyone's arsenal that currently has an Invasion or Virtual Gravity and is looking for something that will get down lane a bit easier. If you are looking to replace your Virtual Energy with the latest and greatest technology then this is the ball for you as well.
Other Products Reviewed by Mike@Bowlingball.com