Mini Viz-A-Ball Awards 700 Series - Award Mini Viz-a-Ball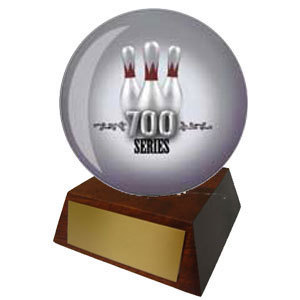 700 Series - Award Specs
Brand:
Mini Viz-A-Ball Awards
Mini Viz-A-Ball Awards is an all new exclusive series of awards from bowlingball.com produced by Brunswick. These great looking 1/8 scale balls feature 360 degree graphics honoring your bowling accomplishments in a unique and classy manner to display them.
This hot new item can be used as a:
Great Gift Idea

Trophy or Award

Great Collectible Item

Home or Office Decoration
*This product is intended for display purposes only and not for actual bowling use.
This unique 700 Series Award features two sides of graphics commemorating a bowling milestone. This award is sure to be loved by the bowler in your life. This great ball includes a clear Brunswick display cup at no additional charge.
Wooden dislay base NOT included. To purchase the wooden display, please
Click Here
See what other people are saying about the 700 Series - Award Mini Viz-a-Ball by reading customer reviews