Storm Men's SP 702 White/Orange/Blue Right Handed Bowling Shoes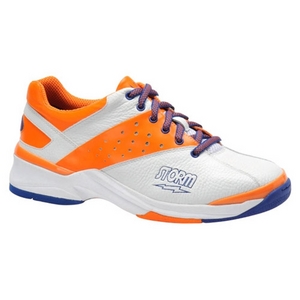 Men's SP 702 White/Orange/Blue Right Handed Specs
Bowling Hand (Shoes):
Right
Color(s):
Orange,Blue,White
THIS IS A BOWLING SHOE FOR RIGHT HANDED BOWLERS

Storm, the #1 name in bowling balls is now entering the bowling shoe market! Storm shoes are made by Dexter for the best quality in the business!

A top of the line bowler needs top of the line bowling shoes. The new Storm Men's SP 702 White/Orange/Blue Right Handed are exactly what you need!



Leather Majority Upper


Strobal Construction


Sport Outsole Right Hand Specific Only


Interchangeable Sole and Heel Slide Foot Only


S8 Sole + H5 Saw Tooth Heel


No additional soles or heels included.
With design, style and comfort like this, it won't be long before Storm is the #1 name in bowling shoes as well!
See what other people are saying about the Men's SP 702 White/Orange/Blue Right Handed Bowling Shoes by reading customer reviews