Etonic Men's Basic PDW (Pete Weber) Skull Wing II Bowling Shoes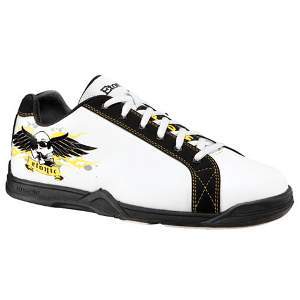 Men's Basic PDW (Pete Weber) Skull Wing II Specs
Bowling Hand (Shoes):
Universal
Color(s):
Yellow,White,Black
People Who Bought Etonic Men's Basic PDW (Pete Weber) Skull Wing II Also Bought:


Retro styling, performance construction and value all in one shoe. For the bowler who wants a more traditional style shoe but with the added touch of retro fashion and glow-in-the-dark properties, these shoes are cutting edge. Universal soles.


Soft, man made uppers; stylish, extra comfort design.


Worn by Pete Weber on the PBA Tour.


See what other people are saying about the Men's Basic PDW (Pete Weber) Skull Wing II Bowling Shoes by reading customer reviews