Etonic Pro Mens Top Action Left Hand Bowling Shoes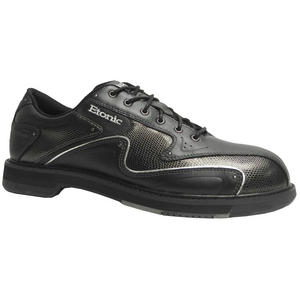 Pro Mens Top Action Left Hand Specs
Bowling Hand (Shoes):
Left
The Etonic Pro Men's Top Action Left Handed is the top of the line shoe you've been looking for!




Full grain leather upper.


Interchangeable soles using VELCRO technology including PS2, PS4, PS6 and PS8 slide sole to provide the perfect slide on any approach. Dexter/Brunswick/Storm/bowlingball.com Replacement Soles can be used on this shoe!


Lightweight, flexible EVA midsole.


Perfect Brake - Newly developed Goodyear rubber compound with a raised heel for accurate braking control.


One piece Multi-Zoned Goodyear rubber outsole with low friction toe cap for durability.


Enhanced comfort Flexbars.


See what other people are saying about the Pro Mens Top Action Left Hand Bowling Shoes by reading customer reviews