Etonic Men's Basic Desert Camo 9.5 11 Only Bowling Shoes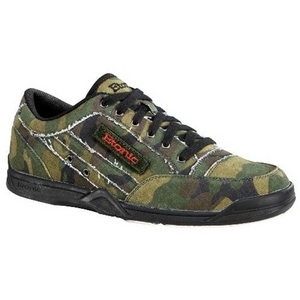 Currently Not Available
Men's Basic Desert Camo 9.5 11 Only Specs
Bowling Hand (Shoes):
Universal
This product (#10703) is not available.
Similar Products
Dexter
Men's Jack

$46.99
People Who Bought Etonic Men's Basic Desert Camo 9.5 11 Only Also Bought:
This ain't your typical bowling shoe! The Etonic Men's Basic Desert Camo brings style to a whole 'nother level!



This is a UNIVERSAL bowling shoe for use by Right OR Left Handed bowlers.


Flex Zone technology with Perfect Slide sole on both feet for a longer, controlled slide that flexes with the natural motion of your foot.


Soft, comfortable and fashionable man made uppers; fully fabric lined; elastic tongue strap for secure fit; cushioned footbeds.


Concave textured rubber outsole to produce a longer, more controlled slide.


See what other people are saying about the Men's Basic Desert Camo 9.5 11 Only Bowling Shoes by reading customer reviews