Dexter Men's SST 8 SE Black/Grey Alloy Wide 8.5 Only Bowling Shoes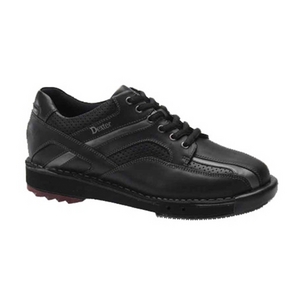 Currently Not Available
Men's SST 8 SE Black/Grey Alloy Wide 8.5 Only Specs
Bowling Hand (Shoes):
Universal
More Info:
Detailed Description Below
Color(s):
Silver,Black,Grey
This product (#9585) is not available.
Similar Products
Dexter Men's SST 8 SE Black/Grey Alloy Wide 8.5 Only Articles
This shoe can be used by RIGHT OR LEFT HANDED BOWLERS!
This is a WIDE WIDTH (2E) bowling shoe

The Dexter Men's SST 8 bowling shoes are an innovative approach to bowling shoes. BOTH shoes have interchangeable soles and heels making them usable for righties and lefties. Usually bowling shoes that are made to be usable by both have a slide sole on both shoes. This is where the Dexter SST 8's are different.

Both the slide soles and traction soles are interchangeable, making them universal high end bowling shoes. They offer a unique interchangeable sole that can be either a slide or traction sole. And the leather toe drag protector stops slide sole peel back.(This model may not be the best option for bowlers with toe drag)


These Dexter Men's SST 8 bowling shoes come with 2 soles (S8 and T3) and 2 heels (H5 Sawtooth and H2 Ultra Brakz). They will already be attached to the shoes.


Wide (2E) Width Shoe


Goodyear Replaceable Rubber Traction Soles


Right or Left Convertible


Leather Toe Drag Protector stops slide sole peel back (This model may not be the best option for bowlers with serious toe drag)


Soft Full-Grain Leather Upper


Stitch-Down Construction
See what other people are saying about the Men's SST 8 SE Black/Grey Alloy Wide 8.5 Only Bowling Shoes by reading customer reviews