Brunswick Women's Classic Navy/Cream Right Handed Sz 5 Only Bowling Shoes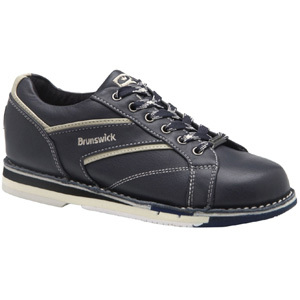 Women's Classic Navy/Cream Right Handed Sz 5 Only Specs
Bowling Hand (Shoes):
Right
Brunswick Womens Classic Navy/Cream Right Hand


20 degree flared heel increases surface contact, and controls lateral sway. Larger footprint and wider platform enhance stability and provide a firm, balanced foundation for the bowling swing.

FULL GRAIN LEATHER


Includes 4 interchangable sliding soles for different slide (S2, S4, S6, and S8)


Includes 4 Interchangeable heels for different braking control (H1, H2, H5, and H7)


Firm, flat midsole for stability


Duratip Goodyear Gold for maximum abrasion, durability and traction.


Goodyear PowerPivot rubber Push-Off sole for added traction.


Comes with a shoe carrier, a nylon shoe bag, and a nylon slide and heel bag.


See what other people are saying about the Women's Classic Navy/Cream Right Handed Sz 5 Only Bowling Shoes by reading customer reviews