3G Bowling Unisex Kicks White/Black Limited Sizes Bowling Shoes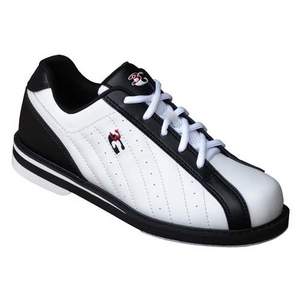 Unisex Kicks White/Black Limited Sizes Specs
Bowling Hand (Shoes):
Universal
Kicks are "STYLIN COOL" and come in four color choices!
Synthetic leather construction
Designed for either men or women, sizes 4.5 - 12, 13, 14 (men's)
Kicks can be used by right or left handed bowlers
Women: Take your shoe size and subtract 2, this is the size you will order. (ex. Size 6 women's = Size 4 unisex) Please see our size conversion chart for more detail.
| | | |
| --- | --- | --- |
| Order Unisex Size | Men's Size | Women's Size |
| 4 1/2 | 4 1/2 | 6 1/2 |
| 5 | 5 | 7 |
| 5 1/2 | 5 1/2 | 7 1/2 |
| 6 | 6 | 8 |
| 6 1/2 | 6 1/2 | 8 1/2 |
| 7 | 7 | 9 |
| 7 1/2 | 7 1/2 | 9 1/2 |
| 8 | 8 | 10 |
| 8 1/2 | 8 1/2 | 10 1/2 |
| 9 | 9 | 11 |
| 9 1/2 | 9 1/2 | 11 1/2 |
| 10 | 10 | 12 |
| 10 1/2 | 10 1/2 | 12 1/2 |
| 11 | 11 | 13 |
| 11 1/2 | 11 1/2 | 13 1/2 |
| 12 | 12 | 14 |
| 13 | 13 | 15 |
| 14 | 14 | 16 |
See what other people are saying about the Unisex Kicks White/Black Limited Sizes Bowling Shoes by reading customer reviews