bowlingball.com Bowler's Accessory Combo Bowling Combos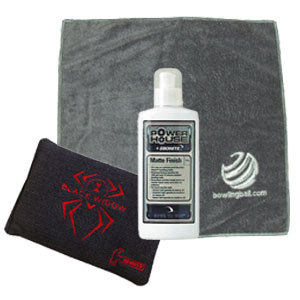 Bowler's Accessory Combo Specs
Powerhouse Matte Finish 5oz Specs
Accessory Type:
Cleaners and Polish
Stitched Microfiber Towel COUNTDOWN DEAL Specs
Accessory Type:
Bowling Towels
Black Widow Grip Sack Specs
Accessory Type:
Grip Sacks and More
Improve your game with this great combo package!

You receive the following:

Over-sized Hammer Black Widow Grip Sack

Prove you are a complete Hammer Head with this awesome Black Widow Micro-fiber Grip Sack. This cool black grip sack features a stitched Black Widow and Hammer logo.




Absorbs Moisture


Eliminates Stickiness


Microfiber Material


Embroidered Logo


Large 5" x 7" Size


---
bowlingball.com Stitched Microfiber Towel
bowlingball.com's MicroFiber Bowling Towel is made of superfine, high density fibers that absorbs dirt and oil - like a magnet!
Absorbs up to 7 times its weight in moisture.
More moisture absorbent than any other conventional cotton towel
Doesn't create static electricity helping to clean and polish the ball after using
Towel measures 16" x 16"
---
Ebonite Powerhouse Matte Finish Polish 5oz
BALL CLEANING
A soldier takes care of his gun. A home run hitter takes care of his bat. Shouldn't you take care of your weapon? The interaction between your ball's surface and the lane surface is the single most important variable involved in your quest to the winner's circle. Ebonite has developed the most effective, easiest- to-use products on the market because we want you to be the champion. All of our cleaners, towels, and scrubs are approved for USBC use during competition. When it matters most.


Use on particle and Reactive Resin bowling balls


Restores factory reaction for 1200-grit and 15-micron sanded bowling balls


Apply by hand; ball spinner not required


Smoothes out the breakpoint on fresher backends and lane oil patterns


Produces best results with: - Slower ball speeds in heavy oil - Medium ball speeds in medium to heavy oil - Faster ball speeds in medium oil


See what other people are saying about the Bowler's Accessory Combo Bowling Combos by reading customer reviews