bowlingball.com Exclusive Grave Digger Ball/Bag Combo Bowling Combos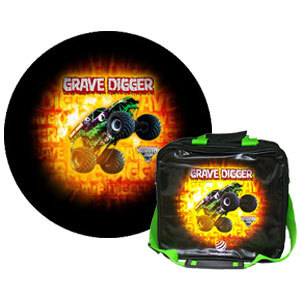 Exclusive Grave Digger Ball/Bag Combo Specs
Color(s):
Red,Orange,Green,Black
Monster Jam - Grave Digger Viz-A-Ball COUNTDOWN DEAL Specs
Color(s):
Yellow,Green,Black
Monster Jam - Grave Digger Single Specs
Check out this exclusive Monster Jam Grave Digger Ball/Bag combo, just in time for the holidays!

bowlingball.com is now pleased to be your Exclusive source for Monster Jam bowling equipment.

What other truck would be the first of our Monster Jam series but the one and only GRAVE DIGGER! Grave Digger and Dennis Anderson are legendary in the sport of monster trucks and continue to be the most popular truck in history.

This is your chance to get a unique limited Grave Digger bowling ball and bag that you can only get from bowlingball.com.

The Perfect Scale®: Helping Bowlers Make Better Decisions. Because each manufacturer uses a different method for indicating a ball's hook potential, bowlingball.com developed a way for the consumer to compare bowling balls across all manufacturers.
See what other people are saying about the Exclusive Grave Digger Ball/Bag Combo Bowling Combos by reading customer reviews