Viz-A-Ball Barb Wire Blue with Barb Wire Single Ball Bag Bowling Combos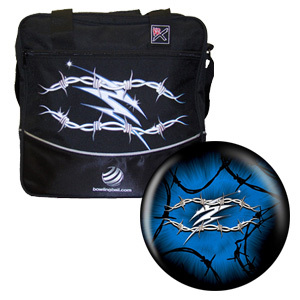 Barb Wire Blue with Barb Wire Single Ball Bag Specs
Color(s):
Blue,Silver,Black
Barb Wire Blue Viz-A-Ball Specs
Barb Wire Single Specs
Purchase The Barb Wire Blue Ball By Itself
SHARPEN UP YOUR GAME
SAVE $10.00 WHEN YOU PURCHASE THE BALL AND BAG TOGETHER!
bowlingball.com has done it again. We are bringing you the coolest Viz-A-Ball to hit the market and it is exclusive to our site. This Barb Wire Viz A Ball has elements of the ever so popular barb wire tattoo's that you see all over with some other cool features that make this the most unique Viz-A-Ball to date.
Remember this Barb Wire bowling ball is an Exclusive release of bowlingball.com and will not be available anywhere else. Quantities are limited so get yours today!
BAG INFO:


420D Nylon material


Shoe shelf


Foam ball holder


Velcro handle wrap


Adjustable shoulder strap


Holds up to size 15 shoe



The Perfect Scale®: Helping Bowlers Make Better Decisions. Because each manufacturer uses a different method for indicating a ball's hook potential, bowlingball.com developed a way for the consumer to compare bowling balls across all manufacturers.
See what other people are saying about the Barb Wire Blue with Barb Wire Single Ball Bag Bowling Combos by reading customer reviews