Brunswick Raging Inferno Bowling Combos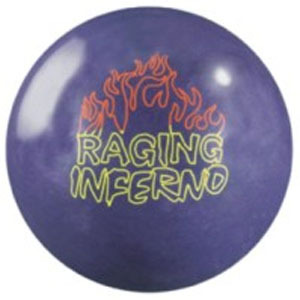 Currently Not Available
Raging Inferno Specs
Raging Inferno Specs
This product (#3638) is not available.
Similar Products
A particle with a Reactive backend! A shiny ball that hooks! The Raging Inferno shatters preconceived boundaries by using the new Activator Coverstock as a base for Brunswick's next generation particle ball performance. The Raging Inferno combines the traction characteristics associated with a particle coverstock with the hooking action and backend of a reactive ball.



The Raging Inferno's Activator coverstock is transformed by the addition of particles creating a ball reaction that is more aggressive than the original Inferno. Activator Particle is a next generation particle coverstock that further increases traction in the oil while at the same time maintains a strong reaction to the driest boards on the lane. These characteristics produce a high hook potential ball that matches up to medium and heavily oiled lane conditions and also is effective at blending over/under ball reactions.



The Raging Inferno uses a modified version of original Inferno core to produce a higher overall RG and lower differential. While still in the low RG-range the Raging Inferno's core system is optimized to provide a more forgiving match-up to the medium-load Activator Particle coverstock.


The Perfect Scale®: Helping Bowlers Make Better Decisions. Because each manufacturer uses a different method for indicating a ball's hook potential, bowlingball.com developed a way for the consumer to compare bowling balls across all manufacturers.
See what other people are saying about the Raging Inferno Bowling Combos by reading customer reviews