bowlingball.com Monster Jam - Blue Thunder Bowling Balls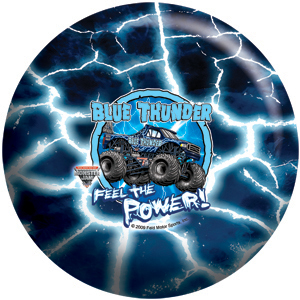 Monster Jam - Blue Thunder Specs
bowlingball.com continues to add the their exclusives ball line with more options for Monster Jam fans.

Blue Thunder is a fan favorite at any event and everyone likes a truck that is Built Ford Tough!

When Ford teamed up with Monster Jam in 2001, Blue Thunder was born. Based of the body style of a Ford F-350 Super Duty, the lightning-streaked truck has been a Monster Jam mainstay for nearly a decade. Today, there are actually two Blue Thunder trucks, one driven by Linsey Weenk and the other piloted by Tony Farrell. Thanks to having such a talented team of veteran drivers on their roster, Blue Thunder has appeared at every Monster Jam World Finals since the year of its creation.

Blue Thunder competes at over twenty Monster Jam events each year, and makes an annual appearance at the Ford Championship Weekend as well. No matter where it goes, it always proves one thing: Blue Thunder is definitely Built Ford Tough!

Now bowlingball.com brings you this great Monster Jam Legend on a great looking bowling ball.

The Perfect Scale®: Helping Bowlers Make Better Decisions. Because each manufacturer uses a different method for indicating a ball's hook potential, bowlingball.com developed a way for the consumer to compare bowling balls across all manufacturers.
See what other people are saying about the Monster Jam - Blue Thunder Bowling Balls by reading customer reviews