bowlingball.com Amazon Tree Frog Viz-A-Ball Bowling Balls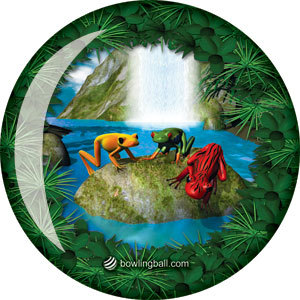 Amazon Tree Frog Viz-A-Ball Specs
Color(s):
Green,Blue,Brown
People Who Bought bowlingball.com Amazon Tree Frog Viz-A-Ball Also Bought:
Depicts 3 of the over 600 varieties of the colorful Amazon Dart Tree Frog. No detail overlooked, from the cascading waterfall in the background located deep within the Amazon rain forest to the three vividly colored Amazon Dart tree frogs resting on a moss covered rock in the middle of one of the thousands of Amazon river tributaries. Carefully detailed Amazon fern and fauna frames this breathless scene on both sides. On the other side we bring the full extent of the Viz A Ball technology to life. One of the Amazon Dart Tree Frog's actually appears to be leaping out of the ball.

A must have for all collector's. As with all of bowlingball.com's collector's series, this is a limited edition. No detail has been overlooked. An exquisite hard to find item for that frog collector or lover of the Amazon Rain Forest - a must have. This indeed is a most unique gift.

The Perfect Scale®: Helping Bowlers Make Better Decisions. Because each manufacturer uses a different method for indicating a ball's hook potential, bowlingball.com developed a way for the consumer to compare bowling balls across all manufacturers.
See what other people are saying about the Amazon Tree Frog Viz-A-Ball Bowling Balls by reading customer reviews