bowlingball.com Pirate Skull w Ship Ball Viz-A-Ball Bowling Balls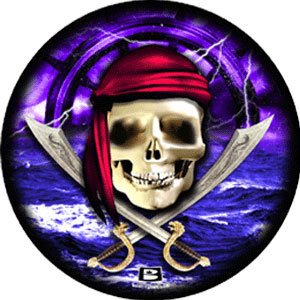 Pirate Skull w Ship Ball Viz-A-Ball Specs
Color(s):
Red,Purple,Black
IN STOCK READY TO SHIP
Ahoy Mate's - "Dead Men Tell No Tales".
Available only at bowlingball.com.
Supplies are limited
We only have a few hundred of these, don't be left out.
The Images Do Not Do This Ball Justice.
The latest exclusive bowlingball.com Viz a ball. If you haven't found that perfect and unique gift, look no further. A deep multi-layering process makes these images pop. A skull with a vivid red pirate headband, brazened gold handled swords set on a background of a ship's wheel set against a stormy sky. Black beard's ship sails eerily through perilous waters giving off a ghostly appearance. Boldly flying the Jolly Roger as they search for Treasure Island. Since pirates first set sail thousands of years ago and later roamed the Caribbean looking for buried treasure, pirates have captivated both young and old alike.
Other related products:

The Perfect Scale®: Helping Bowlers Make Better Decisions. Because each manufacturer uses a different method for indicating a ball's hook potential, bowlingball.com developed a way for the consumer to compare bowling balls across all manufacturers.
See what other people are saying about the Pirate Skull w Ship Ball Viz-A-Ball Bowling Balls by reading customer reviews