bowlingball.com Angel Ball - Celestial Apparition Viz-A-Ball Bowling Balls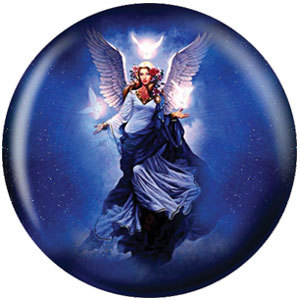 Angel Ball - Celestial Apparition Viz-A-Ball Specs
People Who Bought bowlingball.com Angel Ball - Celestial Apparition Viz-A-Ball Also Bought:
Limited Edition of 500

"Celestial Apparition " by Jonathon Earl Bowser

This original oil on canvas by world famous painter
Jonathon Earl Bowser
is now available as bowlingball.com's newest and most eye-catching, one of a kind Viz-a-ball.
The front side has a full color artist approved copy of "Celestial Apparition". The imaging has been layered, which gives the lithograph a look of realism and depth. This beautifully divine angelic being appears to be floating in the heavens with the stars in the background. The angel is breathtaking with wings outspread and doves of peace above her head, right and left uplifted palms.
The back side of the ball is stunning; at the center is a prominent statue of an angel surrounded by cherubs, cherubim and other renowned angel images, as well as, an archangel sounding a trumpet. There are a thousand reasons why this would make the perfect unique gift or collectors item.
Most of all, the ball is just heavenly.

The Perfect Scale®: Helping Bowlers Make Better Decisions. Because each manufacturer uses a different method for indicating a ball's hook potential, bowlingball.com developed a way for the consumer to compare bowling balls across all manufacturers.
See what other people are saying about the Angel Ball - Celestial Apparition Viz-A-Ball Bowling Balls by reading customer reviews