bowlingball.com Disney's Tinkerbell 'n Pixie Dust Bowling Balls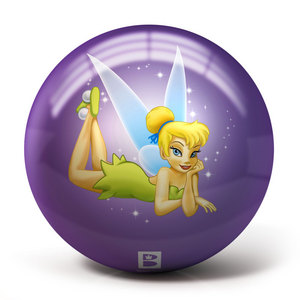 Disney's Tinkerbell 'n Pixie Dust Specs
People Who Bought bowlingball.com Disney's Tinkerbell 'n Pixie Dust Also Bought:
ONLY A FEW REMAINING IN STOCK.
THIS BALL WILL NEVER BE MADE AGAIN.
Officially licensed by Disneyâ"¢ is with Disneyâ"¢ logo on the ball. Ltd Ed of 999
Let Tinkerbellâ"¢ sprinkle you with her magic pixie dust so that you may fly away to Neverland or to your nearest bowling center. Tinkerbellâ"¢ the lovable fairy of Peter Pan fame is one of the most highly collectible Disneyâ"¢ items for kids 2-92 and the young at heart.


Bowlingball.com exclusive, Disneyâ"¢ approved Limited Edition

Unique birthday or anniversary gift idea

Be the only one in your bowling center to have this rare Viz-A-Ball

Great for display purposes for the Tinkerbellâ"¢ collector (display cup additional)

An absolute must for all Tinkerbellâ"¢ collectors

Officially license Disneyâ"¢ product. Disneyâ"¢ logo next to serial number

This great looking bowling ball features Tinkerbell in two unique and classic poses. On one side it shows her lying on her stomach with her legs and head propped up, with that lovable Tinkerbell stare. On the other side she is flying in the air sprinkling pixie dust with her wand allowing the pins to magically fly.
When looking for that unique gift, you can always be assured of seeing that look of wonder, surprise, and joy when giving a Tinker bell collectible.

The Perfect Scale®: Helping Bowlers Make Better Decisions. Because each manufacturer uses a different method for indicating a ball's hook potential, bowlingball.com developed a way for the consumer to compare bowling balls across all manufacturers.
See what other people are saying about the Disney's Tinkerbell 'n Pixie Dust Bowling Balls by reading customer reviews