Viz-A-Ball Three Stooges 6 and 8 Only Bowling Balls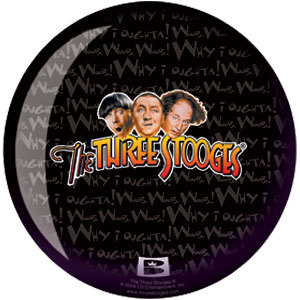 Three Stooges 6 and 8 Only Specs
Keep the laughter rolling all year long with this classic Three Stooges Bowling Ball from Brunswick! Be certain to get your favorite Stooge fan or yourself just the Poifect weight to score strikes or pick up spares with Larry, Moe & Curly!
The Three Stooges Bowling ball features images of those knuckleheads on both sides of the ball; the "Which Way to Tunis/Desert Scene" and The Classic Three Stooges Logo.
This ball is sure to spur up a few nyuks, pie fights and eye poking during your next string at your local bowling center.

The Perfect Scale®: Helping Bowlers Make Better Decisions. Because each manufacturer uses a different method for indicating a ball's hook potential, bowlingball.com developed a way for the consumer to compare bowling balls across all manufacturers.
See what other people are saying about the Three Stooges 6 and 8 Only Bowling Balls by reading customer reviews