Viz-A-Ball Incredible Hulk LE - bowlingball.com Exclusive 10 Only LAST ONE Bowling Balls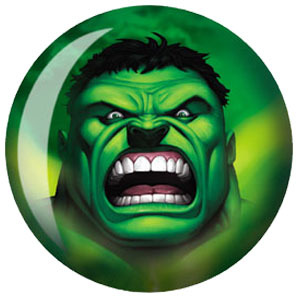 Currently Not Available
Incredible Hulk LE - bowlingball.com Exclusive 10 Only LAST ONE Specs
This product (#2912) is not available.


There is not other place you can get this ball.

This limited edition Brunswick Bowling Viz-A-Ball was originally available only through the Marvel Comic Bowling League, and is now available exclusively through bowlingball.com.
This great looking Ball features your favorite Super Hero, THE INCREDIBLE HULK'S FACE on one side and THE INCREDIBLE HULK and MARVEL logo on the other side. This ball was never released to the public and this is
THE ONLY ONE WE HAVE!
This ball will make a great Collectible for the INCREDIBLE HULK fan or a awesome ball for any bowler. If you need the perfect addition to your MARVEL COMICS SUPER HERO collection, THIS IS IT!!! Check out the another design
here!

The Perfect Scale®: Helping Bowlers Make Better Decisions. Because each manufacturer uses a different method for indicating a ball's hook potential, bowlingball.com developed a way for the consumer to compare bowling balls across all manufacturers.
See what other people are saying about the Incredible Hulk LE - bowlingball.com Exclusive 10 Only LAST ONE Bowling Balls by reading customer reviews