Storm Virtual Gravity Bowling Balls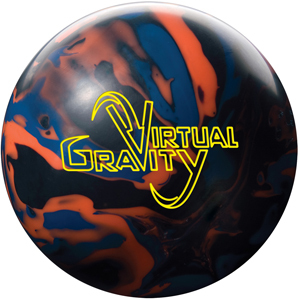 Currently Not Available
Virtual Gravity Specs
Flare Potential:
6"+ (High)
Coverstock Name:
R2X Solid Reactive
Factory Finish:
4000-grit Abralon
Storm Product Line:
Premier
This product (#6810) is not available.


The new Virtual Gravity is the latest endeavor using the well received R2X coverstock and the high performance Shape Lock HD (High Density) Core.

Through extensive testing, Storm's research and development has perfectly matched the surface of the now legendary R2X coverstock to the Shape Lock HD (High Density) to create the Virtual Gravity, the finest Premier performance ball ever produced by Storm.

The Virtual Gravity features the high differential Shape Lock HD core that provides consistent track flare exposing fresh R2X coverstock to the lane for outstanding reaction on the heaviest lane conditions. The low RG and High Differential asymmetrical core creates a tighter spin radius ensuring a quicker revving motion along with continuous roll down the lane. An intermediate differential on .020 allows you the ultimate in breakpoint tune-ability and shot shape.

The R2X Solid Reactive coverstock creates the highest surface roughness ever produced by Storm Products. Our tests indicate a 10% increase in surface friction and a 5% increase in entry angle down the lane than our previous coverstocks. This translates into the highest friction to lane numbers we have ever seen. Along with increased surface roughness, the R2X Solid Reactive coverstock features a slower oil absorption rate for added longevity. The cover is easily sanded or polished to achieve endless reaction possibilities on a multitude of lane conditions.

Features:


Coverstock: R2X Solid Reactive


Weight Block: Shape Lock HD


Ball Finish: 4000-grit Abralon


Durometer: 73-75


Fragrance: Orange Mint


---
Testimonials
"I used this ball at Storm Fair in Japan and it is the strongest ball I have thrown. The Virtual Gravity can handle the heaviest oil."
PBA Hall of Famer Pete Weber
"The R2X cover is unbelievable. I can't wait to use this ball on Tour because it will help me win tournaments... period."
PBA Rookie of the Year Rhino Page
"The Virtual Gravity controls the midlane and doesn't quit. I was amazed how strong this ball is."
Storm staffer Norm Duke
"It anchors the midlane and finishes thru the pin deck. The Virtual Gravity hits the pins hard."
Storm staffer Jeff Carter
"The difference is the ability for the Virtual Gravity to handle oil. It retains energy better than any heavy oil ball I have ever thrown."
Storm staffer Ryan Shafer
"You can see how good the Virtual Gravity is the very first time it goes down the lane. The staffers are going to love this ball on heavy oil..and the cover is very adjustable. Weber and Duke love it. That pretty much says it all."
Storm PBA Tour Representative Chris Schlemer

The Perfect Scale®: Helping Bowlers Make Better Decisions. Because each manufacturer uses a different method for indicating a ball's hook potential, bowlingball.com developed a way for the consumer to compare bowling balls across all manufacturers.
See what other people are saying about the Virtual Gravity Bowling Balls by reading customer reviews