Storm Tropical Heat Hybrid Black/Silver Pro Pin Bowling Balls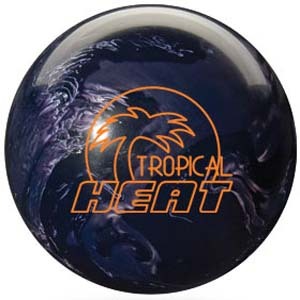 Click Below
To View



Core Image


Product Line
Currently Not Available
Tropical Heat Hybrid Black/Silver Pro Pin Specs
Flare Potential:
3 - 4" (Medium)
Coverstock Name:
Reactor Hybrid Reactive
Factory Finish:
1500 Grit Polished
Fragrance:
Ginger Verbena
Storm Product Line:
Tropical
This product (#10193) is not available.


PRO-PIN: A Pro-Pin is where the Pin distance from the CG is 5 -6"out. Although still categorized as a first quality ball it has limited drill options (see our Pro-Pin Drilling Options) that requires a certain type of bowler. Please consult your pro shop professional before purchasing one of these balls. Anything more than 6 " would be termed an X-Blem (second).
For more information on Pro Pin drilling, please
click Here
Are you ready to set the lanes ablaze? Well now you can with the new Storm Tropical Heat!
First, Storm added a Hybrid version of the proven Reactor reactive coverstock, known for such balls as the Agent, Spit Fire and Fired Up. Next, they wrapped it around the Turbine Core, the engine inside the Fast, Furious and Natural. This combo is HOT! Whether this is your first reactive ball, or you're an advanced player looking for an option on drier conditions, give the Tropical Heat a shot!
See what other people are saying about the Tropical Heat Hybrid Black/Silver Pro Pin Bowling Balls by reading customer reviews