Roto Grip Rising Star Bowling Balls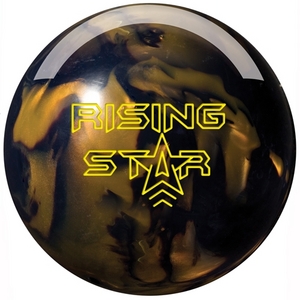 Click Below
To View



Core Image


Product Line
Rising Star Specs
Flare Potential:
3-4 Inches (Med) on a scale of 1-10 Low-High
Coverstock Name:
Ultimate Vision Hybrid Reactive
Factory Finish:
1500 Polished
Core Name:
Neutron (14-16)
Roto Grip Product Line:
HP2
Color(s):
Yellow,Gold,Black
Other Styles

People Who Bought Roto Grip Rising Star Also Bought:
It's your time to shine. The next big thing in bowling. Take your game straight to the top with the Roto Grip Rising Star!

The intent of the new Rising Star was to create a ball that works well on medium-light oil patterns for bowlers with different skill levels and styles. With the benchmark-type symmetrical core shape, the original Dark Star was the cornerstone of the Shield line in 2010, and the new Rising Star will fit the same parameters and perform even better. The Rising Star was designed to increase total hook as compared with the Dark Star, the Ultimate Vision hybrid coverstock is a must for this new release. It creates a smooth glide through the heads with ample bite on the dry boards without being over-sensitive. And with a 1500-grit polished finish, the new Rising Star is sure to raise the bar. A journey to the center of the ball will reveal the new Neutron core as the power source. The Neutron core's medium RG-medium differential shape is based on the concept started with the original Photon core utilized in the Dark Star. But you'll find an even lower RG and higher differential in the heavier weights. So look for more motion out of the Rising Star with all the benefits of a hybrid coverstock. As you rise to the top with this new Roto Grip release, you'll quickly see why it earned the name Rising Star!



The Perfect Scale®: Helping Bowlers Make Better Decisions. Because each manufacturer uses a different method for indicating a ball's hook potential, bowlingball.com developed a way for the consumer to compare bowling balls across all manufacturers.
See what other people are saying about the Rising Star Bowling Balls by reading customer reviews