Roto Grip Nomad Dagger Bowling Balls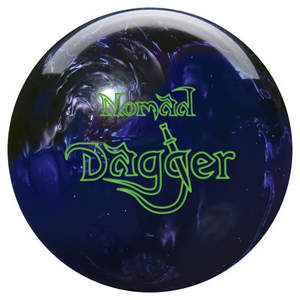 Currently Not Available
Nomad Dagger Specs
Coverstock Name:
Ultra Vision Hybrid Reactive
Factory Finish:
1500 Polished
Roto Grip Product Line:
Sword
This product (#8936) is not available.
Similar Products
Storm
Hy-Road Pearl
$119.99
Perfect Scale®: 188.6
Brunswick
Melee
$129.95
Perfect Scale®: 189.3
Motiv
Venom Toxin
$113.99
Perfect Scale®: 189.9
Cut the heart out of your opponent with the Roto Grip Nomad Dagger!

Looking forward to the new Nomad Dagger, we are relying upon the proven Rotary weight block design to carry the success of the series into the future. This unique core shape fits so many different styles of bowlers! Strokers, crankers, and tweeners alike have found success with the Nomads...in fact, the Nomads have come to be must-haves in Wes Malott's tournament arsenal, too.

And with an Ultra Vision Hybrid coverstock, the Nomad Dagger comes prepared with a 1500-grit polished finish. Matched with this Rotary core, it's a lethal combination. You need this ball.

Roto Grip - It's all about ATTITUDE!

The Perfect Scale®: Helping Bowlers Make Better Decisions. Because each manufacturer uses a different method for indicating a ball's hook potential, bowlingball.com developed a way for the consumer to compare bowling balls across all manufacturers.
See what other people are saying about the Nomad Dagger Bowling Balls by reading customer reviews