Roto Grip Mutant Cell Bowling Balls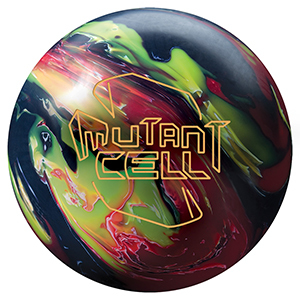 Currently Not Available
Mutant Cell Specs
Flare Potential:
7+ Inches (High)
Coverstock Name:
Cytoplasmic XL Solid Reactive
Factory Finish:
2000 Abralon
Roto Grip Product Line:
Crown
This product (#7625) is not available.
Similar Products
Storm
Modern Marvel COUNTDOWN DEAL

$125.99
Perfect Scale®: 216.8
Storm
Marvel

$124.99
Perfect Scale®: 217.7
Storm
Lucid
$159.99
Perfect Scale®: 217.3
Roto Grip Mutant Cell Articles
The Evolution of Technology has Mutated! Introducing the Roto Grip Mutant Cell.

The success of the Cell series continues to grow, and so does the technology involved in the newest edition. The signature touch to the line has been its continuous motion and versatility. This stems from the Nucleus core and its unique shape. This asymmetrical part maintains its dynamic integrity and differential value after drilling better than any other ball on the market.

Our intent was to utilize this same premise in the newly designed Nucleus II core. We have strategically removed mass along the axes of the core to increase the intermediate differential or mass bias strength. This translates into a quicker revving part along with increased motion potential down the lane.

The final touch is the utilization of the Cytoplasmic XL solid reactive coverstock. This second generation coverstock has an extreme amount of surface topography (Ra value). This means more friction from foul line through the pin deck.

The Evolution of Technology has Mutated!

The Perfect Scale®: Helping Bowlers Make Better Decisions. Because each manufacturer uses a different method for indicating a ball's hook potential, bowlingball.com developed a way for the consumer to compare bowling balls across all manufacturers.
See what other people are saying about the Mutant Cell Bowling Balls by reading customer reviews