Roto Grip Empire 2nd - Overseas Release Bowling Balls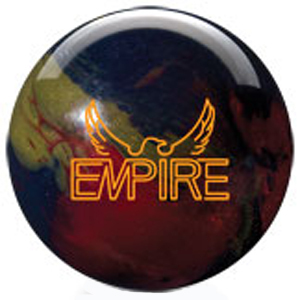 Currently Not Available
Empire 2nd - Overseas Release Specs
Flare Potential:
7+ inches (High)
Coverstock Name:
Cyto-X Pearl Reactive
Factory Finish:
1500 Polished
Roto Grip Product Line:
International
This product (#7348) is not available.


The CAM (Controlled Axis Migration) core was developed using three alternating ellipses. Each ellipse is positioned strategically along the x-axis and then rotating the middle ellipse perpendicular to the y-axis. This gives us constant imbalance or differential as the ball is traveling down the lane and migrating towards its preferred spin axis. In simple terms, this means more consistent hook from start to finish.

The final element to the equation was coverstock. The Cyto-X pearl reactive coverstock is the first of its kind. We are using an enhanced blend of reactive material with interference mica to develop a high surface topography or texture (Ra). This translates into a pearlized ball having the same surface texture as a solid in the oil, but with the performance characteristics of a pearl reactive down the lane. The bottom line is this is a revolution!

---
Seconds due to a cosmetic blemish similar to an X-Comp, but the specifications fall out of the 2-4" & 2-4 oz. range. There are a couple of areas that the ball would not meet some first quality manufacturing specifications (i.e. core chip or engraving error). X-Blems will have an X stamped by the serial number. The label on the box is stamped X-Blem and is marked with a small red number that denotes the specific issue.
NOTE: Due to the limited availability of Blems, X-Outs, and Seconds pin placement and top weight are not guaranteed.

The Perfect Scale®: Helping Bowlers Make Better Decisions. Because each manufacturer uses a different method for indicating a ball's hook potential, bowlingball.com developed a way for the consumer to compare bowling balls across all manufacturers.
See what other people are saying about the Empire 2nd - Overseas Release Bowling Balls by reading customer reviews