Roto Grip Epic Saga Bowling Balls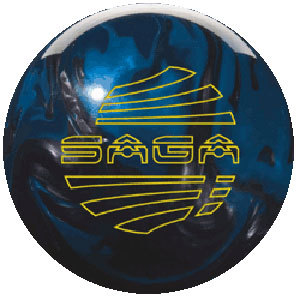 Currently Not Available
Epic Saga Specs
Roto Grip Product Line:
Crown
This product (#4472) is not available.
Similar Products
Storm
Hy-Road

$119.99
Perfect Scale®: 173.8
Roto Grip
Rising Star

$94.99
Perfect Scale®: 174.3
900 Global
Jewel Purple/Pink Pearl 15 ONLY
$94.99
Perfect Scale®: 176.5
The EPIC adventure continues with the introduction of the Roto-Grip Epic SAGA. Defeating much of the known lane conditions at an early time, the Epic Saga is a personal Journey of Conquest and Victory. The Saga seeks its rightful rule as it fights to overthrow the competition and reign over all its enemies.

The SAGA is our latest release in the storied EPIC line of High Performance Asymmetrical bowling balls, the synergy of asymmetry along with hybrid coverstock technology delivers the sharpest backend reaction of any High Performance bowling ball on the market today.

The Maximus II core has proven to be one of the strongest, fastest spinning cores ever developed. Since its original inception in the Epic and modified version in the Epic Battle it has proven to be a winner by taking home a Megabucks Title in February 2006 along with several titles around the world.

The final touch is the newly developed Ultimate Vision Hybrid coverstock; the combination of 1 part solid and 2 parts pearl reactive delivers superior mid-lane read and pin shattering entry angle to the pocket like no other.



The Perfect Scale®: Helping Bowlers Make Better Decisions. Because each manufacturer uses a different method for indicating a ball's hook potential, bowlingball.com developed a way for the consumer to compare bowling balls across all manufacturers.
See what other people are saying about the Epic Saga Bowling Balls by reading customer reviews