Roto Grip Infinite Theory Pro CG Bowling Balls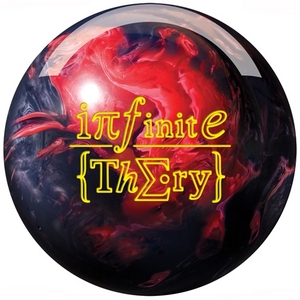 Click Below
To View



Core Image


Product Image
Currently Not Available
Infinite Theory Pro CG Specs
Coverstock Name:
Insight Hybrid Reactive
Factory Finish:
1500 Polish
Core Name:
Triliptic Core (14-16 lbs), Modified Triliptic Cor
Roto Grip Product Line:
Crown
This product (#10203) is not available.


Infinite. Forever. Never-ending. Watch the newest Theory roll down the lane and you'll believe it will never quit on the backend. It's the Roto Grip Infinite Theory!

Following the huge impact on the market made by the original Roto Grip Theory, Roto Grip has created the Infinite Theory. This ball is for bowlers looking for a smoother glide through the heads with strong motion through the pocket. The Triliptic core helps the ball get into a roll easier while the Infinite theory's triple elliptical shape creates consistent axis migration and predictable ball motion giving the consistency needed. This ball also provides more energy transfer from the ball to the pins, increasing pin movement and therefore increasing strikes. The hybrid coverstock gives added versatility while the polished surface will float the ball effortlessly through the heads with a hint of Abralon for the benefits of a solid.


Roto-Grip "Pro CG" Technology
PRO-CG: A Pro-CG is where the CG ends up a certain distance left or right of the Pin and PSA (preferred spin axis). If you draw a line from the PIN to the PSA on average the CG would need to be 2" or more from that line. That distance will vary depending on if the CG was to the right or left. Although still categorized as a first quality ball it has limited drill options (see our Pro-CG Drilling Options) that requires a certain type of layout. Please consult your pro shop professional before purchasing one of these balls.
How or why is a Pro-CG manufactured? A pro-cg is created during the manufacturing process. When the pin area is being drilled the core can slightly shift. When the weight block shifts just a small amount (1/16" - 1/32") it pulls the CG off the Y axis towards the Z axis. This is why on some balls you will notice the CG is a far distance away from the Pin to PSA line. These small shifts do not affect the reaction or quality of the product, but it can limit the drilling options. Therefore we offer a different set of drilling instructions and mark them as Pro CG's.
How much does the CG matter? The CG is the least of your worries when trying to match up a bowling ball to a bowler for their desired reaction. To learn more about how the CG's relevance and other factors when determining ball reaction, see our chart below provided by the U.S.B.C. Please also visit www.bowl.com and read some of their more recent articles on ball motion studies. (The U.S.B.C. is an independent organization with a common goal to protect the sport of bowling).
See what other people are saying about the Infinite Theory Pro CG Bowling Balls by reading customer reviews