Lane #1 Boom-R'ANG Bowling Balls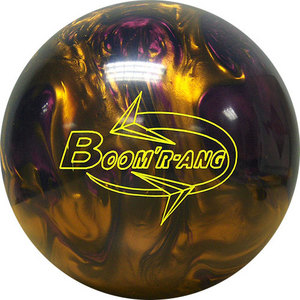 Currently Not Available
Boom-R'ANG Specs
Breakpoint Shape:
Boomerang Backend
Coverstock Name:
Pure Hook
Factory Finish:
6421 Compound 2x Polished
Core Name:
Boomerang Diamond
Color(s):
Yellow,Purple,Gold
This product (#9218) is not available.
Similar Products
Hammer
Black Widow Assassin
$134.95
Perfect Scale®: 208.9
Hammer
Jigsaw Corner X-Out

$114.95
Perfect Scale®: 208.5
Ebonite
Champion MEGA DEAL
$99.99
Perfect Scale®: 211.9
Lane#1 has taken core technology to another level. The new Boom'R-ANG core changes it's axis on every rotation, eliminating roll-out. Watch the pins fly as the Boom'R-ANG hooks around the lane. Throw it out and watch it come back..!!!

P.S. Remember... Nothing cuts through pins better than a Saw..!!


The Perfect Scale®: Helping Bowlers Make Better Decisions. Because each manufacturer uses a different method for indicating a ball's hook potential, bowlingball.com developed a way for the consumer to compare bowling balls across all manufacturers.
See what other people are saying about the Boom-R'ANG Bowling Balls by reading customer reviews