Lane #1 ChainSaw Massacre LE Bowling Balls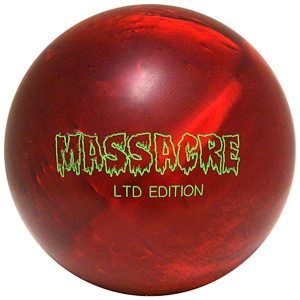 Currently Not Available
ChainSaw Massacre LE Specs
Coverstock Name:
Texas Massacre
Core Name:
Hybrid Destruction
This product (#8821) is not available.
Similar Products
Storm
Marvel 15 Only

$124.99
Perfect Scale®: 217.7
Columbia 300
Crazy Antics
$149.95
Perfect Scale®: 218.9
Lane #1
Stealth Bomber 12 Only
$139.95
Perfect Scale®: 218.5
Lane #1 is pleased to introduce the new bowlingball.com Exclusive Chainsaw Massacre LE!

Pull on it, tear the cover off it... LET THE MASSACRE BEGIN!

The Chainsaw Massacre bites down hard, butchering medium to heavy oiled lanes. Watch this ball carve through the pins, turning them into sawdust for a massacre of high scores!!



















The Perfect Scale®: Helping Bowlers Make Better Decisions. Because each manufacturer uses a different method for indicating a ball's hook potential, bowlingball.com developed a way for the consumer to compare bowling balls across all manufacturers.
See what other people are saying about the ChainSaw Massacre LE Bowling Balls by reading customer reviews